Writing
︎︎︎︎︎︎︎︎︎︎︎︎︎︎︎︎︎︎
︎ March 2nd, 2019

Another sun-drunk day collides with a wild breeze. I dream about being loved first and last (before I wake up and after I fall asleep). The night is hot enough to make us dizzy.

Everyday I want love to remind me that it won't give up on me, even if I quit. Love knows I always come back, and it holds me equally whether I return wounded or triumphant.

Love makes me feel both normal and insane, afraid and brave, ripped apart and built back stronger. Love laughs at me until I let go of my anger and foolishness.

Only love can translate my bad moods, self-doubt, and cynicism into a song that feels human. Love stays up all night with me when I feel worthless.

Love lets me say terrible things about myself, because love doesn't judge even when love doesn't agree. Love knows my insecurities are real. Love knows only grace can heal them.



︎︎︎︎︎︎︎︎︎︎︎︎︎︎︎︎︎︎
︎ March 1st, 2019
Poverty Vows
Abundant in:
Community
Nutrition
Personality + style
Self Love
Creativity
Giving + receiving gifts
Asking for help
Wealth
Health
Organic resources
Repairing + recycling
Being truthful
Frugal / limited with / avoid completely:
Entertainment
Nonessential food
Clothing
Vanity
Art supplies
Investing in social capital
Spreading negativity
Money
Alcohol + substances
Synthetic materials
Throwing things away
Telling lies
︎︎︎︎︎︎︎︎︎︎︎︎︎︎︎︎︎︎
︎ February 26th, 2019
Why am I?

To face my fears. To hold myself accountable. To challenge myself to pursue the life God has inspired me to follow. Knowing that if people believe in me, I will give my entire life to that. Never allowing anything to come in the way of fighting for people.

I'm taking a risk. Because I'm frustrated that it seems like we have no alternatives, when I know so many people that are amazing and deserve a platform to grow. I can support that by listening. Making sure their voices are heard. The history that I'm connected to is the history of liberation coming out of struggle. I am not an intruder. I create my own alternative.

I mean I just really love art. But it seems like there is no place for art in society unless you are a capitalist. I don't want to do that to my work - I don't want to commodify myself. I lived like that once, and I don't want to ever again. But I also don't feel like I have many options.

Why do I want to? To try something new. To try something that for most of history, would be unimaginable. But surprisingly, it's been done before, too. Many have done incredible things that may or may not be celebrated by others. As much as I would love recognition for myself (and that is one of the drivers of an artist's ego), I am at peace with a life that doesn't offer me any reward, if it means I can really help people.


︎︎︎︎︎︎︎︎︎︎︎︎︎︎︎︎︎︎
︎ October 1st, 2019

I don't mind being misunderstood. I am the first to admit that I don't have everything figured out. Often I think I have brilliant ideas, but then I lose my train of thought. But I hope to be respected for my work ethic. I would like to be known for my relentlessness and piety. Beyond that, I wish to be left alone with the resources I need to build a world large enough to share with the few who would find solace and charm in my art. I am tolerant of criticism, ridicule, and doubt --- I've endured that plenty for daring to call myself an artist. What I can't stand is when someone or something gets in the way of the work I am compelled to make. I am determined to live my life in alignment with my values, and I will not be discouraged or intimidated.


︎︎︎︎︎︎︎︎︎︎︎︎︎︎︎︎︎︎
︎ September 18th, 2019

The greatest obstacle to my process is doubt. Feeling like I'm not good enough and that just by existing I am doing greater harm to this planet than good. What if my art doesn't matter? Maybe I don't know how to help people. Maybe I'm meant to be alone. Maybe I'm self-conscious, lonely, embarrassed, and afraid. These feelings have caused me to make many mistakes. I keep thinking that I've learned from them, but sometimes it seems like I'll never change.


︎︎︎︎︎︎︎︎︎︎︎︎︎︎︎︎︎︎
︎ September 1st, 2019
Mantra

I make art about being young,
afraid of climate change,
the daughter of immigrants,
confident in my beliefs,
aspiring for greatness, falling short,
getting back up, trying again.

︎

︎︎︎︎︎︎︎︎︎︎︎︎︎︎︎︎︎︎
︎ July 4th, 2019



I woke up to the sounds of my neighbor blasting reggae music in his backyard, which instantly put me in a good mood. I didn't do much to celebrate Fourth of July this year. I wasn't in a festive spirit considering our county's hostile foreign policies, unapologetic degradation of the environment, widespread political corruption, neglect of the homeless, and callous abuse toward immigrants and refugees... So instead, I spent the day running errands. In the evening I stayed home and worked on my skincare routine. Feeling like Miss Independent on this Independence Day!
Last year's Fourth of July was only great because my mom was visiting me in New York. We deliberately planned for July 4th to be the last day of her trip so that we could enjoy the holiday together. I remember doing research on the best places to see the fireworks and quickly realized how expensive it is to get a bite to eat anywhere near the water on this day. It seems like every restaurant and bar along the East River hikes up their prices just for the occasion, on top of charging a random entrance fee from $30 to $200 per person.
After some digging, I came across a nice park in Greenpoint called the WNYC Transmitter Park. Online, it seemed like the best place to take my mom to see the fireworks for free. When we arrived, we were shocked to find all of the streets leading to the park had been blocked off by the police and no one was allowed into the park, even though this site is free and open to the public on every other day of the year.
In this photo, the man asking the cops for more information looked just as confused and offended as I was. None of us understood why we weren't allowed to enter a municipal park that we pay taxes to maintain. Some police officers told us that the park was 'at maximum capacity.' This was highly questionable because we could all see from a distance that the park was nearly empty. The time of day was also hours before the fireworks were supposed to start. My mom and I had the idea of looking for a spot early to ensure a good view, which meant that overcrowding at this moment was a laughable concern.
My mom and I walked up and down the street trying to find a way into the park. Every police officer we talked to told us a different story. It felt like they were playing mind games with the people. Some police officers would tell us to walk up a few blocks and promised we would find a route into the park. When we confronted the police officers stationed at those streets, they would tell us to walk back the way we came from. Eventually, one of the officers confided in me that the people living in the luxury apartment buildings directly in front of the park had orchestrated a plan with the police to keep the general public out of Transmitter Park for Fourth of July. According to these apartment owners, the foot traffic they anticipated today was a nuisance to them, so they used their influence to make sure the police served their elite interests. I was exhausted from walking up and down the street and disappointed that I could not treat my mother to a special outing on her last day. Out of frustration I snapped at one of the officers, "Do you protect all New Yorkers or just the greedy rich?"
My mother calmed me down, and we eventually followed a crowd of other sad people who had nowhere to go watch the fireworks. We ended up in this little patch of grass littered with trash and blocked by a tall chain-link fence. Others who had been turned away from the park were making the best of this situation by ignoring the less than ideal environment. People were setting up their lawnchairs, blasting music, and grilling hot dogs. My mom and I joined the gathering, and I noticed that all around me I could hear people speaking different languages. In front of us there was a group of friends speaking French. There were also Muslim families, Eastern European couples, Korean men and Haitian moms, among many other unique faces. New York is truly a city of immigrants, and being exposed to this beautiful diversity is what put me back in a good mood. I was especially drawn to a Hispanic girl sitting next to me who was wearing sparkly, patriotic fairy wings.
In this moment a year ago, celebrating American freedom in front of an ugly, unwelcoming fence felt ominous. Visually, it felt like all of us had been rejected by the American dream. Symbolically, the America we wished to belong to was arbitrarily out of reach. The best we could do was hold our loved ones and stare at the fence with hope and desire. I think about that Hispanic girl today and pray that her family is somewhere safe.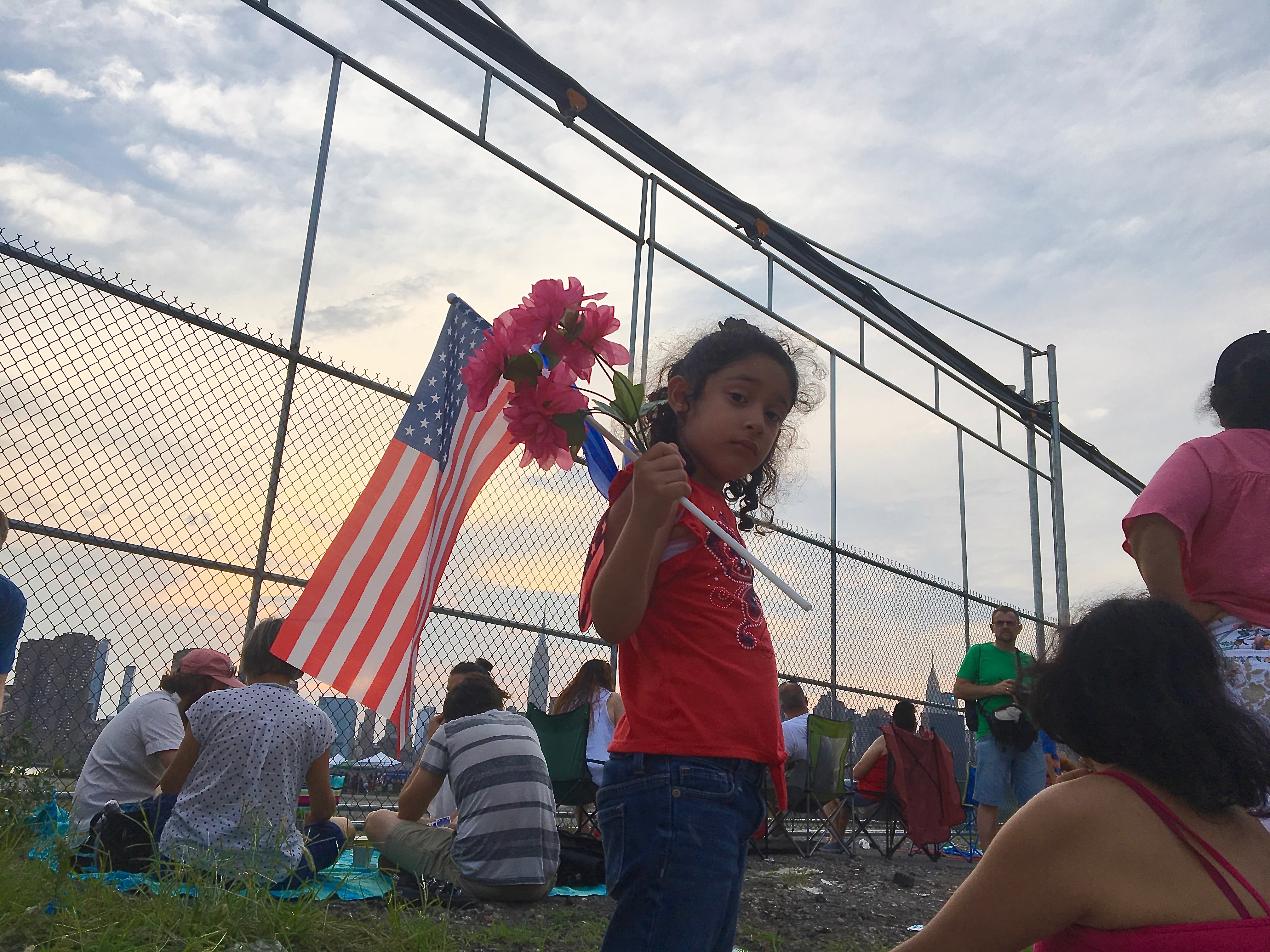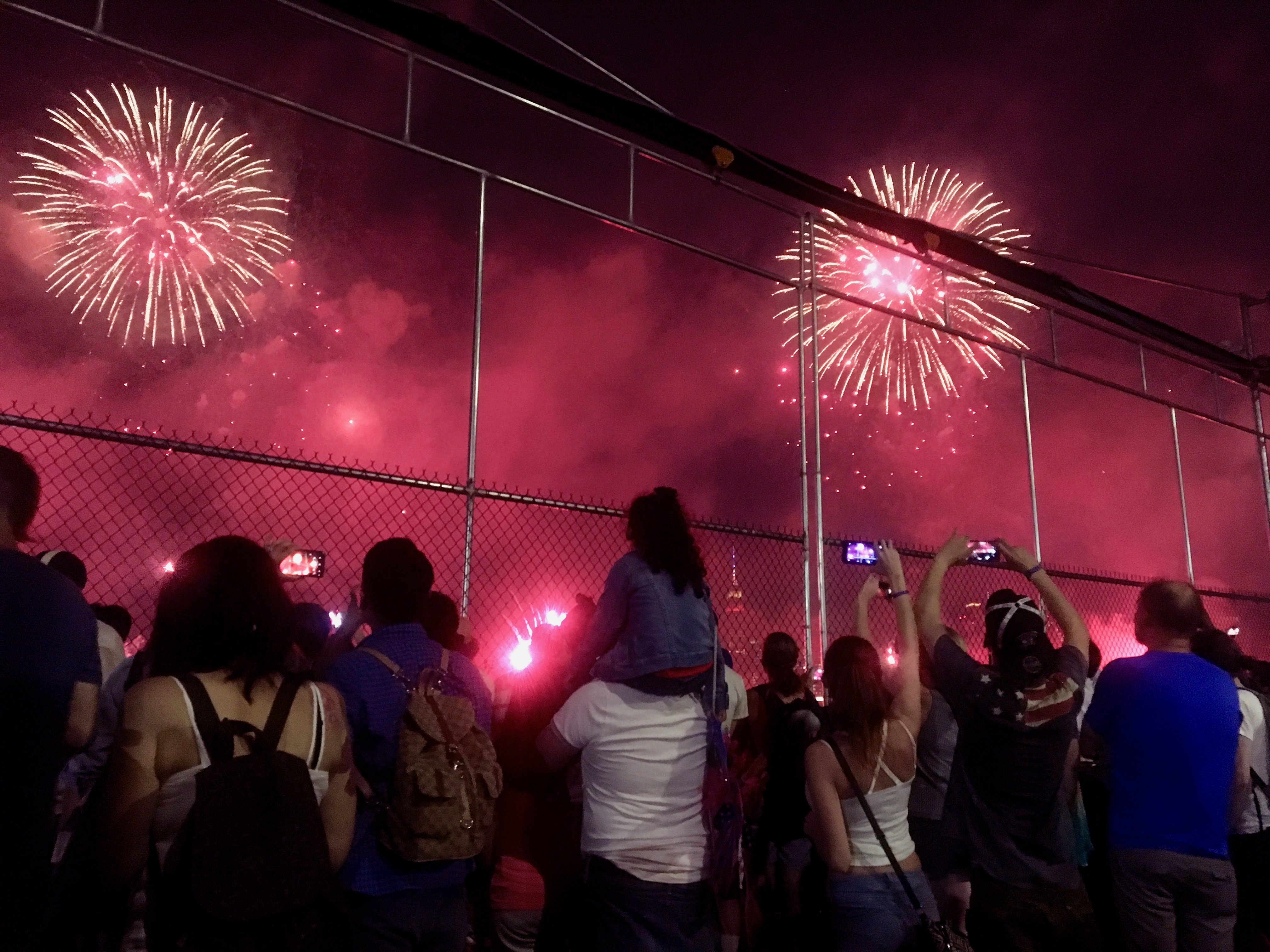 ︎︎︎︎︎︎︎︎︎︎︎︎︎︎︎︎︎︎
︎ June 26th, 2019
Starting Point


Does she write as the woman she is or as the one she wants to be? Does this writer explain things defensively, with an omnipresent awareness of what her critics will say? Or does she write without insecurity?

Does she write as the woman she is or as the one she wants to be? This question has kept me from writing for a very long time. There isn't even a resolution; people are a blend of present and future. I could try to invoke the past too, but that would make things so complicated it would stop all progress in my thoughts.

I used to think that in order to write about myself --- to tell my story, I would have to start if not at the beginning, at least very far back. So much has happened.

But the only way for me to record any of it would be to start in the present, and accept the cloud formation of this narrative (loose and freeform). My story will always be intangible no matter how stable it might seem in my mind.

How much does your writer explain to you? To what degree does she expect you to understand her? How do you measure up to her estimation of how intelligent you'll be? I'll be honest --- sometimes I think you're very stupid. I bet sometimes you think I'm stupid too. You should tell me when I'm wrong. Maybe we'll laugh about it, or maybe I'll fight you. Just know that if you're reading this right now, I appreciate your interest in my ideas and journey.

︎︎︎︎︎︎︎︎︎︎︎︎︎︎︎︎︎︎

Please consider donating so I can keep making content.

︎

︎ Donate